Cartref Newydd, Welsh New Home Card.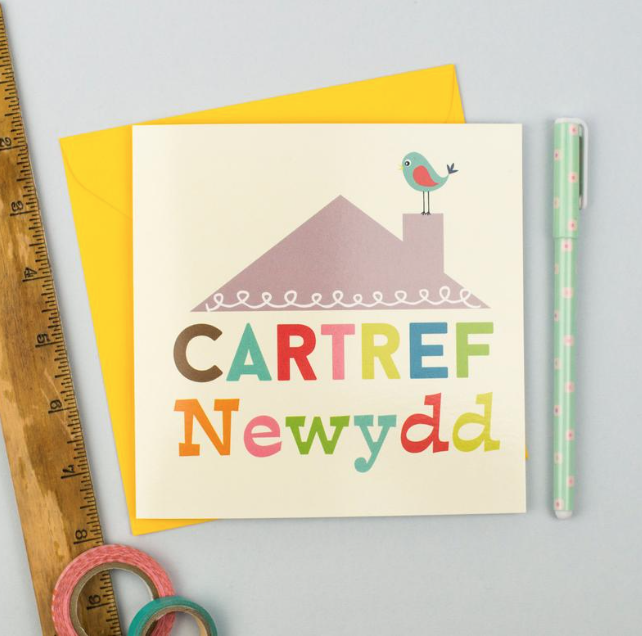 Cartref Newydd, Welsh New Home Card.
New Home card to wish friends or family the best of success and love in their new nest.

A slightly retro style card which is giving it's all in spelling out 'Cartref Newydd', meaning 'New Home' in Welsh.

The Welsh card measures 150mmx150mm and comes in a super smart gloss finish.

All of Oh!Susannah Print cards are designed in South Wales and printed in the U.K on a FSC grade mix 280gsm paper (which to you and me means, a nice weight card which is environmentally friendly to boot!).

The inside is left blank for your own message.

Pick from a light brown, bright red, pink, green, kingfisher blue or crisp white envelope to complete the look.

Diweddariad Pecynnu: Lle bo hynny'n bosibl, rwy'n defnyddio llewysau seloffen pydradwy ar gyfer fy nghardiau a chynnyrch eraill ac yn cael gwared ar blastig. Rwy hefyd yn troi i ddefnyddio bagiau papur lliwgar ar gyfer archebion nad oes angen llewys gwrth-ddŵr arnynt!

Packaging Update: Where possible, I am using bio degradable cellophane sleeves on my cards or products and ditching the plastic. We are also switching to colourful paper bags for orders that don't need a waterproof sleeve!